Matador
Dec 11, 2007 15:05:38 GMT -5
Post by Ace on Dec 11, 2007 15:05:38 GMT -5
www.scene-stealers.com/top-10/erics-top-10-christmas-scenes
Top Ten Tuesday is here and so is the holiday season. But, as usual, we've got something a bit different for you. Christmas is such an emotional time of the year that it serves filmmakers well. Whether you're celebrating the joy of Christmas or wallowing in self-pity at a holiday spent alone, there is so much already wrapped up (no pun intended) in this time of the year that it can echo the most excitement or the bluest melancholy in the wink of an eye. None of these films are considered Christmas movies, but each one of them features an important moment in the life of a character during that holiest of holidays. So grab some egg nog and enjoy this list of fantastic Christmas scenes! (Next week get ready for some more non-traditional Christmas fun.)
10. The Matador (2005)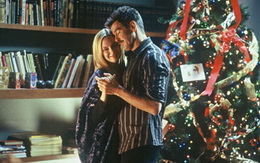 Julian Noble (Pierce Brosnan) is a hitman having a hilariously petty midlife crisis. When he shows up at the house of businessman Danny Wright (Greg Kinnear) during Christmas to beg for his help, it is obvious Danny will take some convincing, so the slimy smooth-operator charms Danny's wife with his inappropriate wit, and dances with her by the Christmas tree. This dark comedy has a lot to explain about Mexico City and what went on earlier that summer between the two, but one unexpected theme does come to light—welcoming an unwanted and desperate visitor into your home, even a sad little person like Brosnan's mustachioed has-been.
Writer/director Richard Shepard finds humor and pathos in the most peculiar places, and this is one peculiar movie worth checking out. Christmas time is the perfect setting to garner a little sympathy, even for a bastard like Julian.
Danny Wright: [discussing possible escape routes] That door over there, if it weren't locked.
Julian Noble: A Vietnamese girl I once knew had her legs so locked together I couldn't get a whiff of her spring roll. Two drinks, half a Quaalude later, I was at an all you can eat buffet. Every lock can be broken. It's just a matter of will and whether it's worth it.