Post by sexypierce on May 27, 2006 2:56:37 GMT -5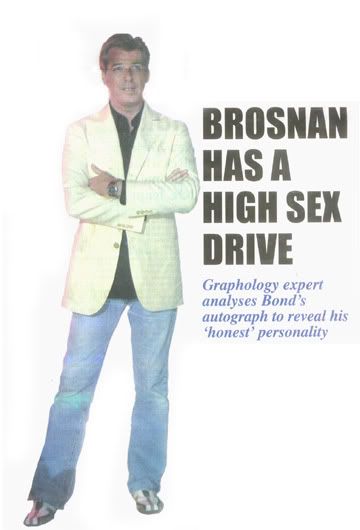 Posted: Fri May 26, 2006 5:01 pm Post subject: Brosnan has high sex drive
--------------------------------------------------------------------------------
HandwritingUniversity.com
============================================
Handwriting University's WEEKLY STROKES Newsletter
============================================
TABLE OF CONTENTS
============================================
1. FEATURE STORY:
Graphology expert analyzes Bond's autograph to reveal his honest personality
2. SPECIAL ANNOUNCEMENT:
3. FEEDBACK:
4. CONTACT US
============================================
FEATURE STORY: Graphology expert analyzes Bond's autograph to
reveal his honest personality
Written by Dr. PM Khatri
Originally Published in The Asian Age and
The Mumbai Age Newspapers in India
============================================
Pierce Brosnan's handwriting and signature jump out of the page with dynamism, fluidity and sharp intelligence. His large hand indicates that he is audacious, friendly and the life of any party. Brosnan is a natural leader and contributes to society. He prefers the visual medium of expression and is a great lover of nature.
Brosnan's upward slant reveals his optimism. The figure eight features everywhere in his handwriting, which means that he can move from one subject to another with ease. This is an essential quality of a good conversationalist. He undertakes large projects and contributes to the betterment of society. He likes to display extravagance, and is very savvy.
The large lower zone loops suggest a vivid imagination. Brosnan is trusting to the point of being gullible. He likes variety, is easily bored with routine, and has an enormous sex drive. Brosnan likes to participate in physical activities and is always "on the go."
His long, down strokes indicate hidden strength and determination.
The heart formation reveals his romantic side. His wife is supportive, but may complain about his messy room and wardrobe.
Brosnan's sharp writing indicates a fast mind. He can size up a situation, make instant decisions, think and evaluate circumstances very quickly, and is often irritated by slow talkers or thinkers. There is a possibility that he is put off by slow drivers in the fast lane.
He is clever, has the ability to analyze, is very calculative and good at negotiating deals. Brosnan is curious, active and may have been a trouble maker in school, since he could finish his school work before everyone else.
His pointed fading strokes scream out sarcasm and wit. His writing overlaps, which could mean he has "too many irons in the fire. " He could be working on too many projects simultaneously, which could amount to frustration due to failure.
Brosnan signs in large capital letters. This means he takes initiative in life and has respect for authority. The bigger capital letters indicate a positive sense of ego and self-confidence declaring, "this is my space."
He writes his name and surname in full, clear and legible hand, hence is an authentic person, like an open book, who has nothing to hide. He has not been dependent on his family for professional success. He is a self-made entertainer.
His name slants downwards, which suggests that he is temporarily tired or slightly depressed about something on the personal front.
The last word in his autograph goes exceedingly high, indicating that he is very generous and desires attention, love and recognition. He is open to flattery too.
His signature shows strokes in the form of faces, thus revealing his jovial and artistic side. The signature also indicates that he has seen lots of ups and downs in life and has the unique ability to come out a winner in difficult life situation. He is a true Bond!
Brosnan's pen strokes tell all
Brosnan's "a" and "o" disclose his restlessness.
He is open to new ideas and is more of a doer than an observer.
The "e" reveals that he is a good listener.
The alphabet "f" reveals that his childhood has been greatly influenced by his mother.
In his signature, the letter "b" is bigger than "p," which means that his wife and children are his first priority in life.
The "o" reveals that his opinion about himself is different from that of those around him.
He may be in denial about a situation in his personal life.
The dotted "i" means that he pays attention to detail and does not forget easily.
Brosnan dots his "i" behind the stem, hinting a tendency to procrastinate, resulting in Herculean efforts to meet deadlines.
He is dexterous and artistic as demonstrated by the "r."
Bond's BEST QUALITIES: Wit, high self worth, self confidence, determination, optimism, enthusiasm, strong physical drive, honesty, leadership.
Pierce Brosnan tells businessman Prakash Thadani to "love life" in this autograph.