Post by Ace on Jun 9, 2010 15:40:49 GMT -5
www.caspayplate.com/



Attention California Pet Lovers –

Help reduce pet overpopulation with the CA Spay & Neuter License Plate!
Spay & Neuter Saves Lives!
The California Spay & Neuter license plate, sponsored by the California Veterinary Medical Board, provides a fun and easy way for pet lovers to help reduce pet overpopulation. Proceeds from the plate provide funding for free or low-cost spay & neuter surgeries across California, and also help to raise awareness about the importance of spaying and neutering.
By pre-ordering the California Spay & Neuter License Plate today, you can be among the first to display the new plate on your vehicle.
Yes!
Yes, I would like to pre-order the California Spay & Neuter License Plate, assuring my position as one of the first drivers to display my support for reducing pet overpopulation.
Thank you for loving pets and for helping California reduce pet overpopulation!
If you prefer to order via mail (with a check, credit card or money order), please click here to download a printable order form. This form can also be used for credit card orders via fax.
The tragedy of pet overpopulation.
Hundreds of thousands of dogs and cats are euthanized in California's animal shelters each year simply because there are not enough homes.
The simplest and most responsible act that a pet owner can take to help alleviate this crisis is to spay or neuter their pets.
Frequently Asked Questions
How much does the plate cost?
A sequentially numbered plate is just $50. A personalized plate, whether a new request or a transfer for an existing personalized plate, is $98. These fees are additional above your normal registration fee.
What is the artwork?
The California Spay & Neuter License plate artwork was created and donated by international actor, artist and animal lover Pierce Brosnan. It is a painting of two of the animals he and his wife Keely have adopted... Shilo the dog and Coco the cat.
When will I receive my plate?
After 7,500 pre-orders are received, the DMV will begin the official program, and will start issuing actual plates after the implementation process is complete. The entire process may take 12 months or more based on the rate that pre-orders are received, and the speed at which the DMV implements the program. People who pre-order are guaranteed to receive their plates prior to the general public, and by pre-ordering you lock-in your position as one of the first Californians to display your love of animals and your support for reducing pet overpopulation!
During the sign up process, you will be asked for the DMV office where your present plates and registration card will be exchanged for your new plates. The DMV will contact you when your new plates are ready.
Can I keep my current license plate number?
If you already have a personalized plate, you may transfer the plate as long as it is 6 characters or less. You may not transfer a previous sequential plate number to the new plate.
Can I personalize the license plate?
Absolutely! Simply fill out your first, second and third choices for a personalized message. Please note that the DMV may refuse any inappropriate personalization request.
Where does the money raised through the program go?
The California Spay & Neuter License Plate is sponsored by the California Veterinary Medical Board and administered by the California Spay & Neuter License Plate Fund, a 501(c)(3) nonprofit organization (1). Proceeds are distributed to cities and counties for free and low cost spay and neuter programs through clinics, shelters and vouchers redeemable at local veterinarians (2).
Plate refunds
In the event that a requested personalized plate is unavailable, or in the event that 7,500 per-orders are not received, a full refund will be provided.
If you have previously submitted a plate pre-order and would like to cancel it and receive a full refund, please call our customer service department at (800) 390-1541.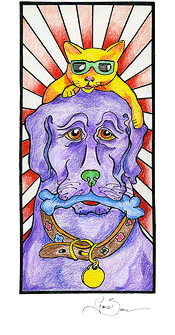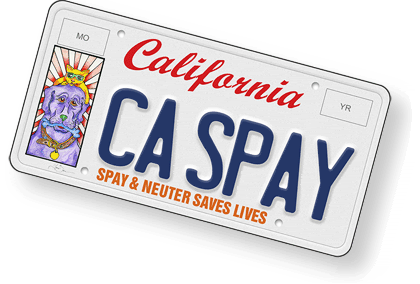 Pierce at the license plate "show & tell" at L.A. shelter
22 minute version